2 Days Desert tour from Marrakech to Zagora
👉  Day 1 : Marrakech – Ait Ben Haddou – Ouarzazate – Agdez – Zagora
Our Desert tour starts at 8:00 am, our driver will  pick you up from your Riad or hotel in Marrakech
We start our journey leaving the red city driving South-east crossing many small villages on our way , about a 100 kilometers.
We start to go up as we reach the chain of the Atlas mountains and the highest pass in  Tizi N-Tichka (2160m), the pass is usually covered by snow during winter time .we will stop on a panoramic view in Tizi N-Tichka , maybe grab a cup of coffee or stop for break. Then we continue our road crossing Berber villages again.
The landscape on the road changing frequently about 90 kilometers from Tichka pass we will get to Ouarzazat city and we will stop to visit the beautiful Kasbah of Taourirt (home to former Caid Pacha Glaoui) and the museum of Cinema as Ouarzazate is a noted film-making location, it has two huge film studios inviting some of the big international experts of the industry of cinema to work there. After visiting the attractions of Ouarzazate, we will drive again through the beautiful valleys for another 90 kilometers to reach to Agdez and we stop to take some pictures of the Valley.
Once you arrive at the Camp of Zagora desert, you are welcomed by the staff; given your tents and Cup of mint Tea  session to get to know each other's and break the ice with other comers… 2 Days Desert tour from Marrakech to Zagora.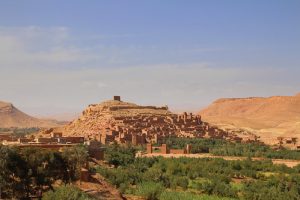 👉  Day 2 : Zagora – Draa valley – Agdez – Ouarzazate – Tizi-N-Ticha – Marrakech
The second day of Zagora desert trip starts with an early breakfast, so you don't miss the awesome sunset Zagora has to offer, another opportunity to take beautiful pictures.
Then Ride the camels back to meet the car at the end of the paved road. Leave Zagora behind and head straight back to the fortified village of Ait benhaddou, where you will have lunch, before exploring the site, declared by the UNESCO as a world heritage site… Seven families still live in the old village of Ait Benhaddou, the rest have moved to the other side of the valley, a more modern side. Ksar Ait benhaddou was a pausing station for the caravanes traveling along the Ounila valley; the merchants either exchange goods here and go back to the desert, or pause to rest then continue to Marrakech, they used to trade salt, silver and slaves.
After visiting the Ksar of Ait benhaddou, we will take the road back to Marrakech, to arrive there around 6 or 7pm, where your driver will drop you at the location of your choice. 2 Days Desert tour from Marrakech to zagora.