1 Nights in Sahara Desert Merzouga
Start the afternoon, two hours before sunset and travelers should be prepared to spend the night in the luxury camp. the Camels will pick up you to the Camp after crossing the sand duns , you will stop for a lovely sunset and then countineu to the Camp. Than you will have a cup of Tea.1 Nights in Sahara Desert Merzouga.
After the dinner you will enjoy the music with our Berber Team( it is possibil to try the Berber Drums) .when you done with a music you can have a wolk around the Camp to  enjoy the Stars.
Early morrning, you will wake up for the sunrise. when you have your Breakfast the Camels will pick up you back ( it is possibl to take the Car back).
2 Nights in Sahara Desert Merzouga
The 2 Nights Came Trekking in the Merzouga desert begins in the late afternoon, we organize the camel ride for the two nights in the desert from a hotel near the sand dunes, in this trip, you'll visit the 2 kinds of desert sand dunes and the black desert near the border between Morocco and Algeria.
The trek will take you to the highest sand dunes in the heart of the Erg Chebbi sand dunes (Merzouga desert), it is a great opportunity to take lovely pictures of the sunset and sunrise from the highest sand dunes.
Afterward, we arrive at the camp we will leave the camels, take the sandboarding and climb the highest dunes to watch the sunset and for sandboarding, at the camp, there will be a wonderful dinner and Berber drums music around a fire in the middle of the Sahara desert, It will be a magical night when the sky is often clear and stars sparkle and shine. Then, spend the night in a private nomad tent.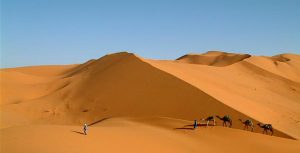 Included :
luxury tent (shower & bathroom)
Parking for your car (if you have it)
Nomad tents (Desert camp)
Dinner and breakfest
Camel each ( Camel ride)
Bottle of  water
Sandboardin
Free stops
All night luxury recomandation
No Included :